Condenser Tube Expansion AL Series
We are offering Condenser Tube Expansion AL Series
5/16"- 1 5/8" O.D.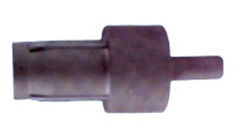 This Expander is used to enlarge the ends of soft tube so that another tube of same size can be inserted into the expanded section and soldered for a leak proof joint. These Expanders are designed to leave 0.0015" celearance for slip fit and soldering. Special sizes and shanks on order. Avarage depth of expansion is 3/4". Specify tube gauge on order.
Expander
No.

Rollers
Set No.
Note : All 'AL' series expanders are supplied with round mandrel drives.