Continuous Hydraulic Tube Pulling Machine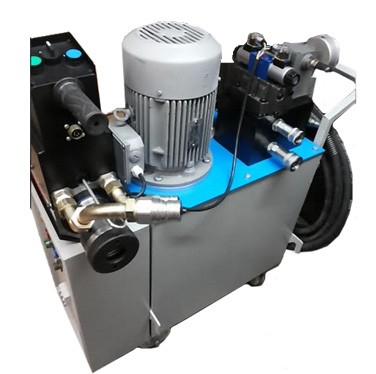 We are offering Continuous Hydraulic Tube Puller 3/8"- 4" O.D.

Features :

Pulling gun communicates with powerpack via DC remote control. This ensures safely and eliminates the need of electrical cord between pump and gun that ohter manufacturers provide.
Available with a choice of Electric - TPP System or Pneumatic - PPP System for hazardous, explosive working environments.
Microprocessor controls on powerpack and gun ensure trouble free life.
Removes tube without any damage to tube sheet.
Low setup time and ease of operation.
High power & High speed automatic cycling, for highest speed of pull available worldwide.
Auto switchover from low pressure high flow to high pressure low flow on load and again back to low pressure high flow when load is released.
Automatic slow start feature to minimize risk of breaking tubes and to conserve consumables.
Compact design of Powerpack and Gun.
Interchangeble pulling guns with same Powerpack. 15 ton gun for light duty high speed work, 30 ton gun for heavy duty tube pulling and 45 ton gun for tubes upto 3" O.D.
Totally stainless steel construction body of powerpack for longer corrosion free life.
Pulls up to 3" OD tubes continuously, pulls up to 4" O.D. stub.
Low maintenance cost and worldwide availability of components.
Significant saving of time and money over conventional system.
Unit is portable with handle and mounted on four wheels for easy handling.
Unit wil pull tubes continuously through the gun effortlessly, needing only one man for operation.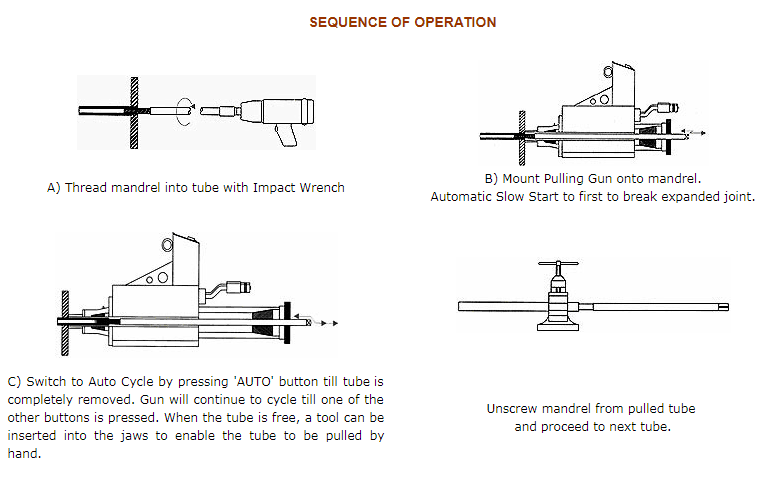 TUBE PULLING POWERPACK - SPECIFICATIONS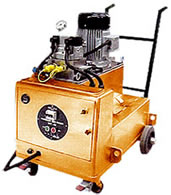 Model

Motor

Volts / Phase

Power

Oil Tank Capacity

Net Wt.

Dim.

Air Supple

Hyd. Hoses Size x Length

hp

litrs.

Kgs.

mm

inch x mtrs.

TPP-50

Siemens

415/3

5

90

220

1200 x 750 x 990

-

1/2" x 5 & 3/4" x 5

TPP-75

Siemens

415/3

7.5

138

270

1225 x 775 x 1015

-

1/2" x 5 & 3/4" x 5

TPP-30

Siemens

230/1

3

12

42

500 x 410 x 750

-

1/2" x 5 & 3/4" x 5

PPP-50 (Pneumatic)

Gast

-

9

90

220

700 x 560 x 480

180CFM AT 7 BAR

1/2" x 5 & 3/4" x 5
Note :
 Max. Working Pressure 350 bar. All Powerpacks supplied with 5mtr long hydraulic hoses.
HYDRAULIC TUBE PULLING GUNS - SPECIFICATIONS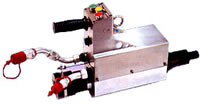 Gun Model

Pulling Capacity

Max. Tube O.D. Thru Gun

Stub Pulling Capacity

Weight

Free Pulling Speed (meter/mim) with

tons

inch

inch

kgs.

lbs.

TPP-50

TPP-75

TPP-30

PPP-50

HPG-15

15

1

1.1/2

26

57

5.2

8.4

1.8

5.6

HPG-30

30

1.1/2

3

38

84

3.0

3.7

2.4

3.5

HPG-45

45

3

4

78

172

2.0

2.7

2.0

2.3
Note :
 All pulling guns are supplied with Forward, Reverse, and Auto Cycle Switches