Auto Stub Puller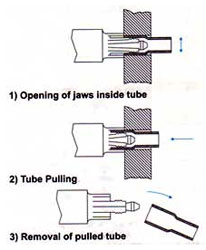 We are offering
Auto Stub Puller
1/2"- 2" O.D.
Features :
• Designed for fast removal of ferrous and non-ferrous tubes from Condensers, Heat     Exchangers, and Boilers.
• A rapid stroke allows the removal of 10 tubes a minute with little operator efforts
• Gripping and pulling done in single operation.
• Compact and lightweight pulling gun, easy to operate inside boiler drum with 24 Volt DC     control.
• Auto ejection of tube after removal.
• Remove tubes without any damage to tube sheet.
• Pneumatic version available for harzardous and explosive areas.
• Low setup time and ease of operation.
• Auto Switchover from low-pressure high flow to high-pressure low flow on load and back again when load is released.
• Interchangeable pulling gun with same power pack.
• Significant savings of time & money over conventional methods of stub removal.
• Can pull from 13 mm to 51 mm I.D. Tubes.
Auto Stub Puller Set
Model

Tube Size ID

Stub Pulling Gun Model

Hydraulic Powerpack Model

Spring Balancer Model To Suspend Gun

mm

inch

ASP - 1

13 - 31

1/2 - 1.1/4

CTP-900

PPP-35 / EPP-15

SEW - 22

ASP - 2

31 - 51

1.1/4 - 2

CTP-1100

PPP-35 / EPP -15

SEW - 30
Stub Pulling Gun - Specifications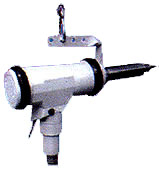 | | | |
| --- | --- | --- |
| Model Number | CTP - 900 | CTP - 1100 |
| Capacity / inside dia. of expanded tube (mm) | 13 to 31 | 31 to 51 |
| Maximum stroke (mm) | 60 | 100 |
| Weight (Kg) | 23 | 27 |
| Max. Working Pressure (bar) | 700 | 700 |
| Max. Pulling force (ton) | 13 | 31 |
Hydraulic Powerpack - Specifications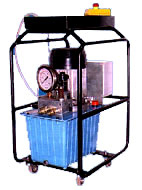 Model Number

PPP - 35

EPP - 15

Power

Pneumatic

Electric

Motot H.P.

3.5

1.5

Flow rate

4.5 lpm at 0 - 70 bar
1.8 lpm at 70 - 700 bar

3.5 lpm at 0 - 70 bar
0.45 lpm at 70 - 700 bar

Tank capacity (liters)

10

10

Weight including oil (kg)

40

52
Note :
 All pulling guns are supplied with Forward, Reverse, and Auto Cycle Switches