Condenser Tube Expander AN Series

We are offering AN Series Condenser Tube Expanders. 1/4"- 3/8" O.D.
Use : Oil Coolers, radiators and other apparatus with diameter tubes.
Advantages : Captive mandrel - eliminates nut to mandrel tip which prevents scratching of tube I.D.
Increased Feed angle makes it the fastest operating tool on the market, ideal for high production environments.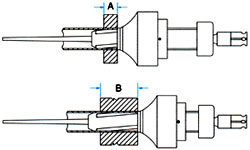 For Tubes Internal Diameter
FROM (3.8 MM).152" TO (8.4 MM).331"

TUBE EXPANDER FITTED WITH ROLLER LENGTH

For Tube Sheet
Adjustable Range

MINIMUM A
MAXIMUM B
(25.4mm) 1"
(6.35mm) 1/4"
(25.4mm) 1"
Tube O.D. mm inch
Tube Thickness
Tube I.D
Minimum I.D. Tool Enters
Maximum Expansion Of Tools
Expander With (25.4mm) 1" Long Rollers
bwg
mm
inch
mm
inch
mm
inch
mm
inch
Complete Tool No.
Mandrel No.
Rollers Set No.

6.35
1/4"

18
1.24
.049
3.8
.152
3.7
.148
4.2
.167
A-25018
M-21819
R-20018
19
1.06
.042
4.2
.166
4.0
.160
4.5
.180
A-25019
M-21819
R-21920
20
0.88
.035
4.5
.180
4.4
.175
4.9
.196
A-25020
M-22021
R-21920
21
0.81
.032
4.7
.186
4.5
.180
5.1
.202
A-25021
M-22021
R-22124
22
0.71
.028
4.9
.194
4.8
.190
5.4
.213
A-25022
M-20022
R-22124
23
0.63
.025
5.0
.200
4.9
.195
5.5
.216
A-25023
M-22324
R-21920
24
0.55
.022
5.2
.206
5.1
.201
5.7
.224
A-25024
M-22324
R-22124
28
0.35
.014
5.6
.222
5.4
.217
6.1
.243
A-25028
M-22830
R-22830
29
0.33
.013
5.7
.224
5.4
.217
6.1
.243
A-25028
M-22830
R-22830
30
0.30
.012
5.7
.226
5.4
.217
6.1
.243
A-25028
M-22830
R-22830

(9.53)

3/8"

14
2.10
.083
5.3
.209
5.1
.204
5.8
.230
A-37514
M-22830
R-21920
15
1.82
.072
5.8
.231
5.6
.225
6.6
.265
A-37515
M-22830
R-31516
16
1.65
.065
6.2
.245
6.0
.238
7.0
.278
A-37516
M-31617
R-31516
17
1.47
.058
6.5
.259
6.4
.253
7.4
.293
A-37517
M-31617
R-31720
18
1.24
.049
7.0
.277
6.8
.270
7.8
.310
A-37518
M-30018
R-31720
19
1.06
.042
7.3
.291
7.1
.285
8.1
.325
A-37519
M-30019
R-31720
20
0.88
.035
7.7
.305
7.4
.295
8.4
.335
A-37520
M-32021
R-31720
21
0.81
.032
7.9
.311
7.5
.305
8.6
.345
A-37521
M-32021
R-32122
22
0.71
.028
8.1
.319
7.9
.312
8.9
.353
A-37522
M-32224
R-32122
23
0.63
.025
8.2
.325
8.1
.318
9.2
363
A-37523
M-32224
R-32324
24
0.55
.022
8.4
.331
8.1
.318
9.2
.363
A-37524
M-32224
R-32324